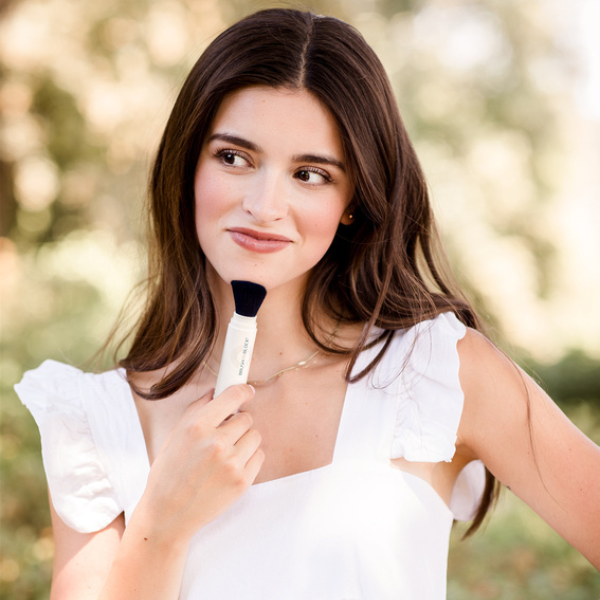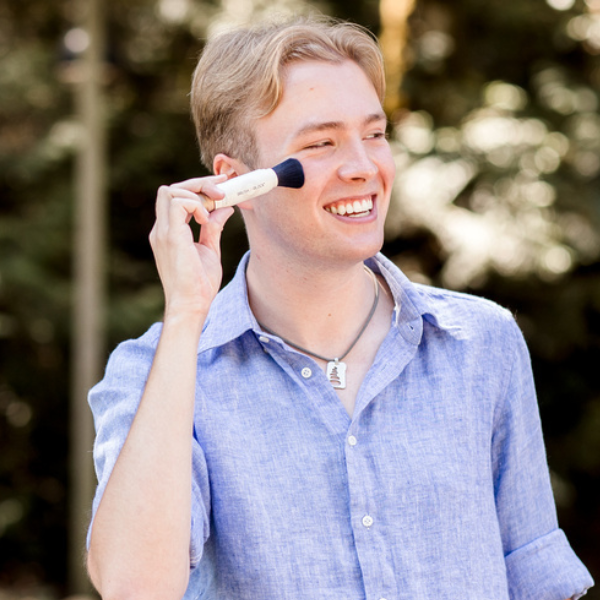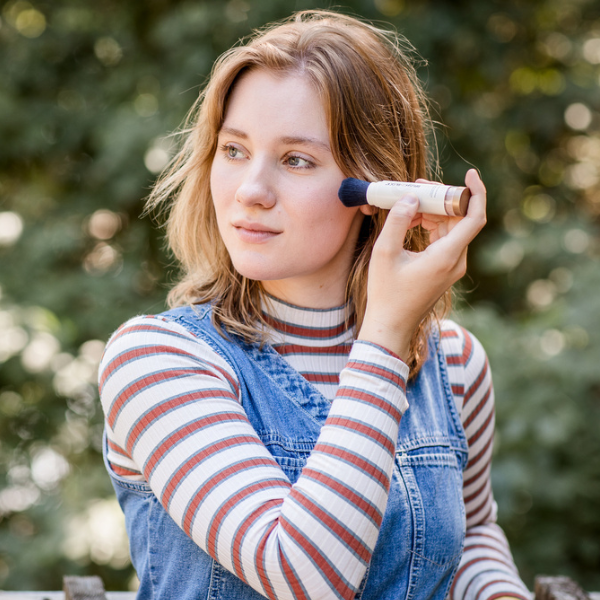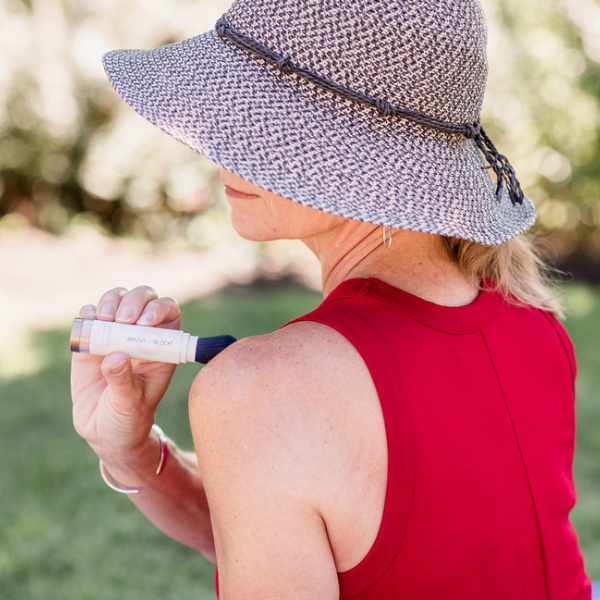 Brush On Block Translucent Mineral Powder Sunscreen SPF 50
Sale price

$ 46.00 USD
Regular price
(/)
Customers asked, we listened. Introducing Brush On Block's Mineral Powder Sunscreen SPF 50 – with elevated protection for those times you need it.
Just like our original Brush On Block SPF 30 powder, this newest one is a powerful, packable, water-resistant broad spectrum protector. It is easy to apply and reapply, easy to carry and provides shine-free sun protection. Whether you're on the field or red carpet, our Mineral Powder SPF 50 can be worn alone or over make-up, and is water resistant for 80 minutes. Our newest formula helps soothe irritated skin, blurs imperfections and has emollient ingredients that help keep skin moisturized. Like all  Brush On Block products, it contains only safe, mineral sunscreen actives.
If you already use SPF 30 daily, when might you need extra protection? We recommend our new SPF 50 for those with very fair skin, for extended exposure to UV rays (remember to reapply), for higher elevations, anytime you are around snow or water, and for anyone at high risk of skin cancer.
What Makes Brush On Block SPF 50 Mineral Powder Sunscreen Great?

<ul style="list-style-type:disc;"><li><span style="color:rgb(0,0,0);">Provides broad spectrum SPF 50 protection</span></li><li><span style="color:rgb(0,0,0);">Apply and reapply with ease</span></li><li><span style="color:rgb(0,0,0);">Perfect sunscreen for all your everyday activities</span></li><li><span style="color:rgb(0,0,0);">Can be worn alone or over makeup</span></li><li><span style="color:rgb(0,0,0);">Safe sunscreen for children and sensitive skin</span></li><li><span style="color:rgb(0,0,0);">Goes on translucent - won't affect your normal skin tone</span></li><li><span style="color:rgb(0,0,0);">Great for protecting skin, scalp, part lines and thinning&nbsp;hair</span></li><li><span style="color:rgb(0,0,0);">No greasy texture, messy hands or white residue</span></li><li><span style="color:rgb(0,0,0);">Won't run in or sting your eyes</span></li><li><span style="color:rgb(0,0,0);">Sweat and water resistant for up to 80 minutes</span></li><li><span style="color:rgb(0,0,0);">Will not soak into clothes, upholstery or sports equipment</span></li><li><span style="color:rgb(0,0,0);">Compact self-dispensing brush - put it in your bag or&nbsp;pocket and go</span></li><li><span style="color:rgb(0,0,0);">Won't loosen your grip! Ideal for tennis, golf, biking or&nbsp;any sport where greasy, slippery hands are to be avoided</span></li><li><span style="color:rgb(0,0,0);">Reef-friendly Mineral Sunscreen – no Oxybenzone,&nbsp;Octinoxate, Avobenzone or any other banned chemical sunscreen actives</span></li><li><span style="color:rgb(0,0,0);">Gluten-free, Vegan and Cruelty-free</span></li><li><span style="color:rgb(0,0,0);">Zinc Oxide and Titanium Dioxide are the only two sunscreen&nbsp;active ingredients that the FDA labels generally recognized as&nbsp;&nbsp;safe and effective (GRASE).</span></li></ul>
<p><strong>Active Ingredients:</strong></p><p>Titanium Dioxide 6%</p><p>Zinc Oxide 21%</p><p>&nbsp;</p><p><strong>Inactive Ingredients:</strong></p><p>Bisabolol, Boron Nitride, Chamomile Flower Extract, Ethyl Ferulate, Hydroxyacetophenone, Iron Oxides, Lauroyl Lysine, Mica, Phenyl Trimethicone, Rice Bran&nbsp;Extract, Safflower Seed Oil, Silica, Sodium Dehydroacetate, Triethoxycaprylylsilane.</p>
<p style="margin-left:0cm;"><span style="color:rgb(0,0,0);">Brush On&nbsp;Block® is housed in a self-dispensing brush. The powder flows through the&nbsp;brush and out the head of the brush.&nbsp;When you receive the brush it will be in&nbsp;the "close" position. Remove the top cap and slide the plastic sleeve&nbsp;all the way down&nbsp;to uncover the brush head. Turn the bottom cartridge slightly&nbsp;(about 1/2") to the left until you feel a click (don't keep turning it or&nbsp;you will unscrew the cartridge completely). Now the brush is in the&nbsp;"open" position and the powder should flow through the&nbsp;brush to the&nbsp;brush head. Hold the brush in your hand and flick your wrist (like you would do&nbsp;with a glass thermometer) until you&nbsp;see the mineral powder sunscreen in the&nbsp;brush head. Apply liberally to face, neck, chest and hands, or about 15 seconds&nbsp;on&nbsp;each half of the face, each hand, the neck, etc. Turn the bottom of the&nbsp;container to the right back to the "close" position and&nbsp;replace cover when not&nbsp;in use.&nbsp;</span></p>
<p><span style="color:#303030;"><strong>What makes Brush On Block® a mineral sunscreen?</strong></span></p><p><span style="color:#303030;">As a mineral sunscreen, Brush On Block does not contain harmful chemical ingredients. Brush On Block contains titanium dioxide and zinc oxide, both of which are well-known, naturally occurring ingredients. Both minerals offer broad spectrum sun protection when used as directed and provide some of the safest sun protection available. Unlike chemical sunscreens which work by being absorbed into the skin, Brush On Block's minerals sit on top of the skin and reflect the sun's rays away from your skin. Since it does not absorb into the skin, Brush On Block is less likely to irritate the skin or clog pores, making it ideal for people with acne-prone or sensitive skin.</span></p><p>&nbsp;</p><p><span style="color:#303030;"><strong>Is Brush On Block suitable for all skin tones?</strong></span></p><p><span style="color:#303030;">Brush On Block was formulated to go on translucent on most skin tones, from very light to very dark. On the darkest skin tones, you may see Brush On Block when you first apply, but wait a moment. As it comes into contact with the natural oils from your skin, it will become nearly invisible.</span></p><p>&nbsp;</p><p><span style="color:#303030;"><strong>Is Brush On Block suitable for dry skin types?</strong></span></p><p><span style="color:#303030;">Yes! Because our formula contains safflower seed oil, you will not find it drying.</span></p><p>&nbsp;</p><p><span style="color:#303030;"><strong>Is Brush On Block suitable for oily or acne-prone skin types?</strong></span></p><p><span style="color:#303030;">Yes! Brush On Block is non-comedogenic, and as a dry powder, will help absorb oils as they reach the surface of the skin. It makes a great touch-up powder mid-day with the added bonus of sun protection.</span></p><p>&nbsp;</p><p><span style="color:#303030;"><strong>What are the benefits of the botanical ingredients in Brush On Block?</strong></span></p><p><span style="color:#303030;">Safflower Seed Oil moisturizes and protects the skin. Bisabolol and Chamomile Extract help prevent skin inflammation and irritation. Together these botanicals work to enrich, soothe and replenish your exposed skin.</span></p><p>&nbsp;</p><p><span style="color:#303030;"><strong>Has Brush On Block been tested on animals?</strong></span></p><p><span style="color:#303030;">No! Brush On Block is certified Vegan and compliant with PETA's Global Animal Test Policy. That means that we don't test our finished product on animals, but also that none of our raw ingredient suppliers use animal testing. We are proudly cruelty-free!</span></p><p>&nbsp;</p><p><span style="color:#303030;"><strong>Is Brush On Block suitable for vegans?</strong></span></p><p><span style="color:#303030;">Yes! None of our products contain any animal-derived ingredients, and we are certified vegan by Peta. &nbsp;</span></p><p>&nbsp;</p><p><span style="color:#303030;"><strong>How do I know if I have applied enough?</strong></span></p><p><span style="color:#303030;">If you are certain that your brush is dispensing powder (you can see it on the tips of the bristles), you should apply in a circular motion to each half of your face for at least 15 seconds. In between, give the brush a little shake to be sure you have plenty of powder available for the other half of your face. Don't forget your neck, arms and hands!</span></p><p>&nbsp;</p><p><span style="color:#303030;"><strong>How often do I need to reapply my Brush On Block?</strong></span></p><p><span style="color:#303030;">All sunscreens need to be reapplied every 2 hours when you are outdoors or exposed to UV rays. If you are swimming or seating, you should reapply your Brush On Block Mineral Powder Sunscreen every 80 minutes. If you towel-dry, please reapply immediately.</span></p><p>&nbsp;</p><p><span style="color:#303030;"><strong>Can I wear Brush On Block with makeup?</strong></span></p><p><span style="color:#303030;">Brush On Block Mineral Powder Sunscreen can be worn over makeup (as a finishing powder) or without makeup. It is translucent and since it sits on top of the skin's surface, there is no risk of smudging, running, or greasy residue.</span></p><p>&nbsp;</p><p><span style="color:#303030;"><strong>Is Brush On Block Mineral Powder Sunscreen waterproof?</strong></span></p><p><span style="color:#303030;">No sunscreen is truly waterproof, but Brush On Block has been tested to the highest level of water resistance. Your Brush On Block is good for 80 minutes of swimming or sweating. Reapply after 80 minutes, or immediately if you towel dry.</span></p><p>&nbsp;</p><p><span style="color:#303030;"><strong>Will Brush On Block Mineral Powder irritate my skin like some sunscreens do?</strong></span></p><p><span style="color:#303030;">Since it is both a powder, and a mineral sunscreen product, Brush On Block is not absorbed into the skin, but stays on the surface. This makes it less likely to cause skin irritation and breakouts. In many cases, sunscreen irritation is caused by chemical sunscreen active ingredients (oxybenzone, avobenzone, octinoxate, to name a few), which must be absorbed into the skin to be effective.</span></p><p>&nbsp;</p><p><span style="color:#303030;"><strong>Is Brush On Block Mineral Powder Sunscreen safe for children?</strong></span></p><p><span style="color:#303030;">Yes! Our mineral powder sunscreens can be applied to children 6 months of age and older. Many parents have found that our mineral powder sunscreens are easier to use on children than many of the leading lotions, sprays or sticks. For children under 6 months, please check with your doctor.</span></p><p>&nbsp;</p><p><span style="color:#303030;"><strong>Can I use Brush On Block Mineral Powder Sunscreen on my body?</strong></span></p><p><span style="color:#303030;">Brush On Block products were primarily designed to provide quick and easy sun protection for the face, neck, arms and hands, but they can it be used on all body parts that are exposed to the sun or that require fast and easy sun protection.</span></p><p>&nbsp;</p><p><span style="color:#303030;"><strong>Is it safe around my eyes?</strong></span></p><p><span style="color:#303030;">While Brush On Block Mineral Powder Sunscreen should not be placed in the eyes, there is little risk of the product running or dripping into the eyes. To apply to smaller eyes around the eyes and nose, slide the plastic brush sleeve halfway up for more precise application. Brush On Block can be lightly dusted around the eye area and over closed lids.</span></p><p>&nbsp;</p><p><span style="color:#303030;"><strong>Does Brush On Block Mineral Powder Sunscreen contain:</strong></span><br><span style="color:#303030;">Oxybenzone – No</span></p><p><span style="color:#303030;">Octinoxate – No</span></p><p><span style="color:#303030;">Parabens – No</span></p><p><span style="color:#303030;">PABA – No</span></p><p><span style="color:#303030;">Phthlates – No</span></p><p><span style="color:#303030;">Gluten – No</span></p><p><span style="color:#303030;">Homosalate – No</span></p><p><span style="color:#303030;">Avobenzone – No</span></p><p><span style="color:#303030;">Octycrylene – No</span></p><p><span style="color:#303030;">Animal By-products – No</span></p><p><span style="color:#303030;">Titanium Dioxide – Yes</span></p><p><span style="color:#303030;">Zinc Oxide – Yes</span></p><p>&nbsp;</p><p><span style="color:#303030;"><strong>Is it ok to use Brush On Block Mineral Sunscreen products in regions that have banned some sunscreens?</strong></span></p><p><span style="color:#303030;">Yes! Brush On Block contains none of the sunscreen ingredients that have been banned to protect ocean life. Additionally, the products contain non nano-sized particles.</span></p><p>&nbsp;</p><p><span style="color:#303030;"><strong>What rays does Brush On Block protect me from?</strong></span></p><p><span style="color:#303030;">Brush On Block Mineral Powder Sunscreen provides broad spectrum protection, meaning it protects the skin from UV rays, both UVA (that cause photo-aging) and UVB (the ones that cause sunburn) rays. Additionally, it protects from damage from Blue Light (HEV Light, High Energy Visible Light), which comes from both screens and from the sun and from IR-A (Infrared-A) light.</span></p><p>&nbsp;</p><p><span style="color:#303030;"><strong>How long should my Brush On Block Mineral Powder Sunscreen last?</strong></span></p><p><span style="color:#303030;">The product in your Brush On Block brush should last approximately three months with daily use on face, neck, arms and hands. During the summer, or when you are swimming or sweating, you will need to reapply, so your powder may last only two months.</span></p><p>&nbsp;</p><p><span style="color:#303030;"><strong>How do I refill my brush?</strong></span></p><p><span style="color:#303030;">Refills for Brush On Block SPF 50 Mineral Powder Sunscreen will be available soon.</span></p><p>&nbsp;</p><p><span style="color:#303030;"><strong>Can I wash my brush?</strong></span></p><p><span style="color:#303030;">Yes, and you should!</span></p><p><span style="color:#303030;">The Brush On Block brush head may be cleaned with a brush cleaner, soap or shampoo. We recommend that you clean your brush with a brush cleaning spray or wipe regularly, and wash the brush with soap or shampoo when you need to refill the brush.</span></p><p><span style="color:#303030;">To clean the brush with a brush cleaning spray, spritz 2 or 3 sprays on a tissue or paper towel. With the brush in the closed position, wipe the bristles in circles over the wet area, repeating as necessary until no more powder comes off. Gently tissue off residue and let the brush air dry. For cleaning with a brush cleaning wipe, follow the same steps.</span></p><p><span style="color:#303030;">To wash with soap or shampoo, remove the powder cartridge and set it aside. Hold the brush sideways under running water. Keeping the brush horizontal, apply a small amount of shampoo or gentle soap onto the brush and rub with your fingers. Rinse horizontally under running water. Take care to not allow water to flow into the white tube in the center of the bristles. Squeeze the brush bristles to remove excess water and allow to dry overnight on its side. Once thoroughly dry, screw the powder cartridge back on, or attach a new refill. If your brush does not flow well after washing, locate the white tube in the center of the bristles. Moisture may have made its way into this tube, causing powder to clog. To clear the clog, stick a straightened paper clip down this tube and move it around to touch all sides of the tube and break up any clumps.</span></p><p><br><span style="color:#303030;"><strong>My brush used to dispense powder just fine, but now it won't and I have plenty of powder left, what's wrong?</strong></span></p><p><span style="color:#303030;">If you just washed your brush, read the above section. You probably need to clear a clog.</span></p><p><span style="color:#303030;">If you haven't washed or cleaned your brush, you most likely need to. As you use the brush, it will pick up oils from your skin and the powder will adhere to the oil, making the bristles tend to stick together. This keeps the powder from flowing into the bristles as it should,</span></p><p><span style="color:#303030;">Another option is that even though you can still see powder in the brush, it isn't enough to push powder into the bristles. If you stand your brush up and the powder level does not reach the clear "window" in the bottom, it is most likely time for a refill.</span></p><p>&nbsp;</p>
Brush On Block Translucent Mineral Powder Sunscreen SPF 50
Sale price

$ 46.00 USD
Regular price
Choose options