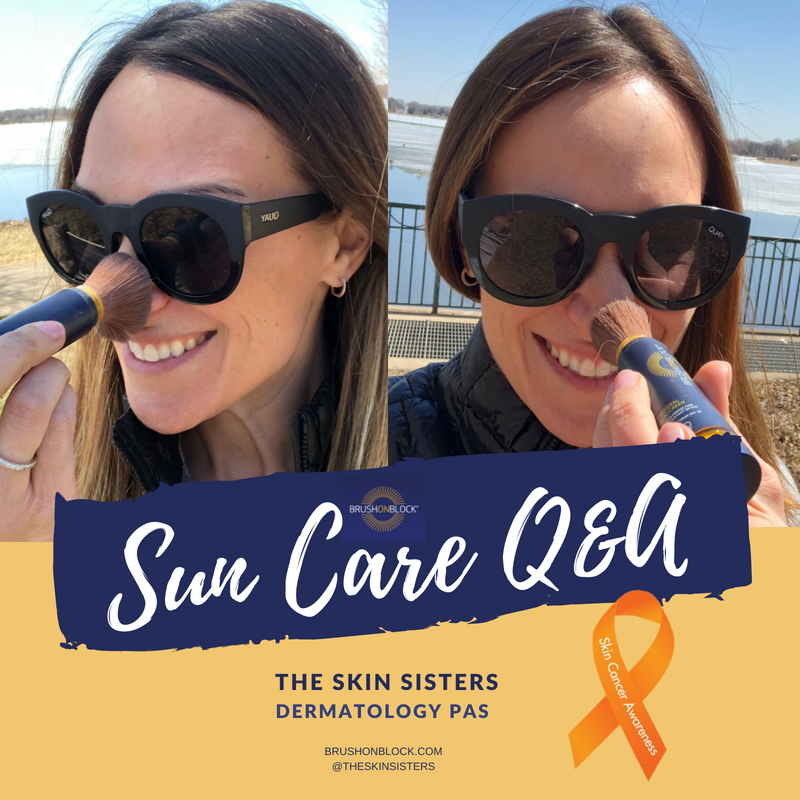 Sun Care Q&A with Dermatology Duo The Skin Sisters
It's Skin Cancer Awareness Month - what better a time to learn how to best protect your skin from the sun! We asked a few skin savvy dermatology buffs (who are also Brush On Block® SPF 30 Mineral Sunscreen users!) to share their Sun-Smart stories and tips. Read on to see what The Skin Sisters, a sister duo of dermatology PAs practicing in Minneapolis had to say!
When did you first become aware of the importance of daily sun protection?: It wasn't until after college that we started to take proper care of our skin! We were young and ignorant about the effects of UV exposure on our skin and sadly, both of us used to lay out in the sun. After college we become more aware of the dangers of UV exposure and really started to take proper steps on a daily basis to protect our skin. We can't change the past, but we are so thankful that now there is so much information and so many amazing products that can help everyone keep their skin safe on a daily basis. 
What's your favorite way to fit sun protection into your daily life?: We love to keep sun safety tools stashed away, so at any given time, we aren't stuck without it! Keeping products like Brush On Block in our cars and purses ensures that we can always touch up on the go! 
Aside from sunscreen, are there any other methods you use to protect yourself from the sun?:  There is so much fun, stylish, sun protective fashion out there now! It is really a luxury that we don't have to sacrifice style for sun protection and there are several brands that offer super cute, everyday wear that is also sun protective.
Your top sun-safe tip:  Make it a no brainer! If you wear lip balm everyday, take two extra seconds at the store to choose one with SPF. Same thing with items like makeup, body lotion, etc. Taking one less step out of your daily routine makes it simple and easy to integrate your sun protection. And of course, stash your Brush On Block in all your purses, in the car and around your house! If you have to think too much about it - you probably won't end up using it -- so make it easy! 
THE SKIN SISTERS' LINKS
Brooke and Lauren, The Skin Sisters