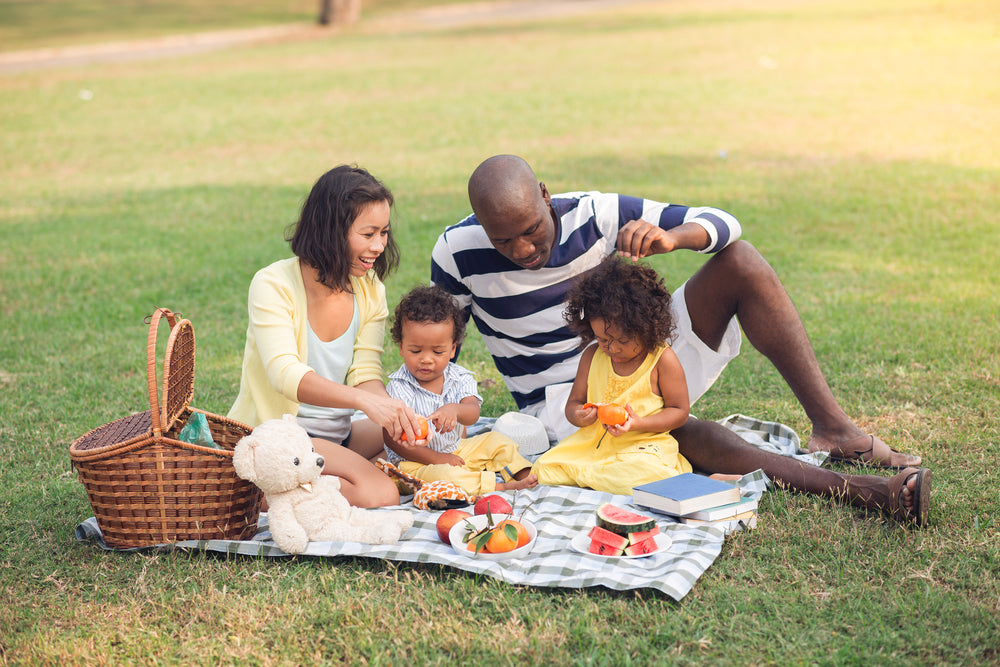 It's almost the Fourth of July and whether you plan to view the fireworks from your city's designated viewing spot, a nice empty park or field, or the comfort of your own backyard, a picnic dinner is a nice way to kick off the evening. Get out a big blanket, your picnic basket, and your BRUSH ON BLOCK® Mineral Powder Sunscreen to protect your face and neck from the evening sun.
Summer Panzanella salads have been trending recently and are easy to whip up. They work well as a side dish but a larger serving can work for the main course as well. You will need:
2 large baguettes, cut into 1-inch cubes
1/2 c. extra-virgin olive oil, divided
3 tbsp. red wine vinegar
1 tsp. honey
Kosher salt
Freshly ground black pepper
1 large, seedless cucumber, roughly chopped
2 pt. cherry tomatoes (preferably multi-colored), halved
1 red onion, chopped
1 clove garlic, minced
1 bunch basil, torn 
To make, preheat a large skillet over medium-high heat. In a large bowl, toss bread with 1/4-cup olive oil. Add bread to skillet and toast until golden and crisp, about 10 minutes. Drain and set aside to cool. In a small bowl, whisk together red wine vinegar, remaining 1/4-cup olive oil and honey, then season with salt and pepper. To the large bowl, add crispy bread, cucumber, tomatoes, onion, and garlic. Toss with dressing until evenly coated and season with more salt and pepper. Garnish with basil and serve.
Panzanella salads pair well with grilled Portobello mushrooms for a delicious, vegetarian meal. For the mushrooms, you will need:
3-4 large Portobello mushrooms (stems removed, wiped clean)
1/3-cup balsamic vinegar
1/4-cup olive oil
1/2 tsp cumin
1/2 tsp black pepper
1/4 tsp smoked paprika
3 cloves garlic (minced)
1 Tbsp steak sauce (optional // vegan-friendly, like A1)
To make, add Portobello mushrooms to a shallow baking dish or large freezer bag and set aside. In a small mixing bowl, whisk together balsamic vinegar, olive oil, cumin, black pepper, paprika, garlic, and steak sauce (optional). Taste and adjust seasonings as needed. Add sauce to the mushrooms and use a pastry brush to brush on all sides. Marinate on one side for 5 minutes, then the other side for 5 minutes. Heat a grill or a large skillet over medium heat. Cook on each side for 2-3 minutes, or until caramelized and deep golden brown. Brush on any remaining marinade while cooking to infuse more flavor.
Panzanella recipe from https://www.delish.com/cooking/recipe-ideas/recipes/a47246/summer-panzanella-recipe/
Portobello recipe from https://minimalistbaker.com/portobello-steaks-avocado-chimichurri/