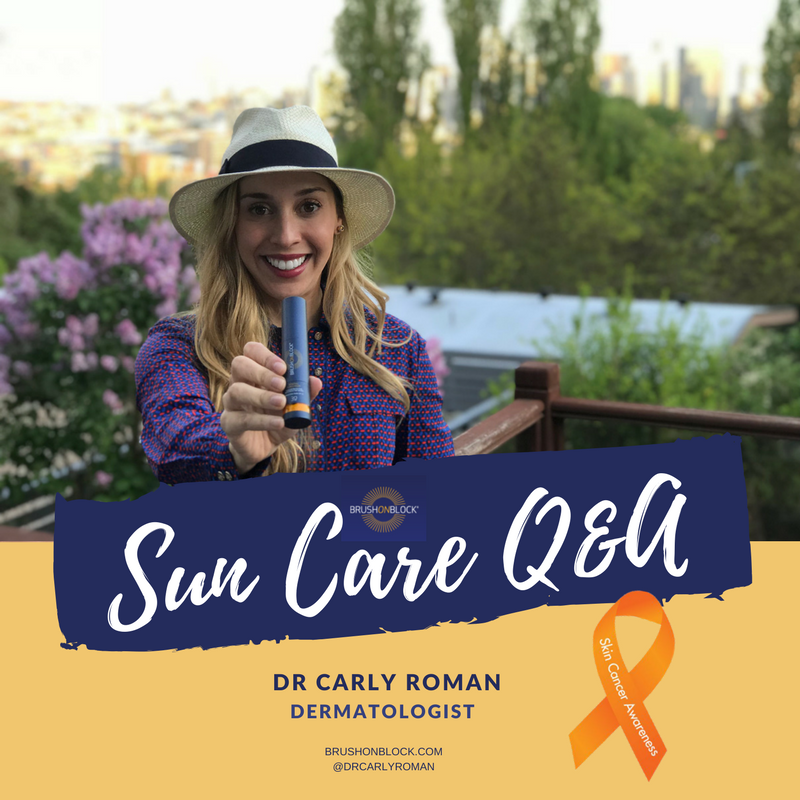 Sun Care Q&A with Dermatologist Doctor Carly Roman
It's Skin Cancer Awareness Month - what better a time to learn how to best protect your skin from the sun! We asked a few skin savvy dermatology buffs (who are also BRUSH ON BLOCK® SPF 30 Mineral Sunscreen users) to share their Sun-Smart stories and tips. Read on to see what Doctor Carly Roman, a board-certified dermatologist practicing in Seattle had to say!
When did you first become aware of the importance of daily sun protection?:  I first became aware of the importance of daily sun protection in medical school. Prior to that time, I incorrectly thought sun protection was only for preventing sunburns. Growing up in the Midwest this only meant during summer vacation. Once I learned that the sun's UV rays (particularly UVA) are present year-round and can penetrate through glass and windows, I realized how important it was to protect myself every day. UVA can cause damage in both the epidermis and dermis (first two layers of the skin) and lead to an increased risk of skin cancer and significant aging. 
What's your favorite way to fit sun protection into your daily life?: I apply broad spectrum sunscreen every morning before applying makeup. I use Brush On Block as a touch up midday and before heading outside. I love that it has a sheer finish and doubles as a finishing powder. I also carry a hat and sunglasses in my bag so I can cover up if spending a long time outdoors. 
Aside from sunscreen, are there any other methods you use to protect yourself from the sun?:  Protective clothing and seeking shade are other methods to hide from the sun. Protective clothing includes long sleeves, pants, wide brimmed hats, and sunglasses. Finding sun protective clothing has been easier in the last few years as multiple companies produce clothing with a measured Ultraviolet Protection Factor (UPF), meaning they measure and confirm that their clothing blocks UV radiation. 
Whenever possible, I will also find a shady spot to enjoy the outdoors.
Although UV light exposure is associated with up to 90% of skin cancers, it does not mean that you must be a hermit or give up your outdoor activities. Instead, it means you should make a few adjustments to enjoy your favorite activities more safely. I recommend that my patients invest in a few staple pieces of sun protective clothing (i.e. versatile long-sleeved shirt or coverup that can be worn for multiple occasions) and a few different styles of hats. If you are excited about wearing the clothing or accessories, sun protection will seem easy and fun rather than a burden.
Your top #SunSafe tip:  An ounce of prevention is worth a pound of cure. It is much easier and less invasive to prevent skin cancers and sun damage than it is to cure skin cancer or reverse aging!
DR. CARLY'S LINKS
Dr. Carly Roman