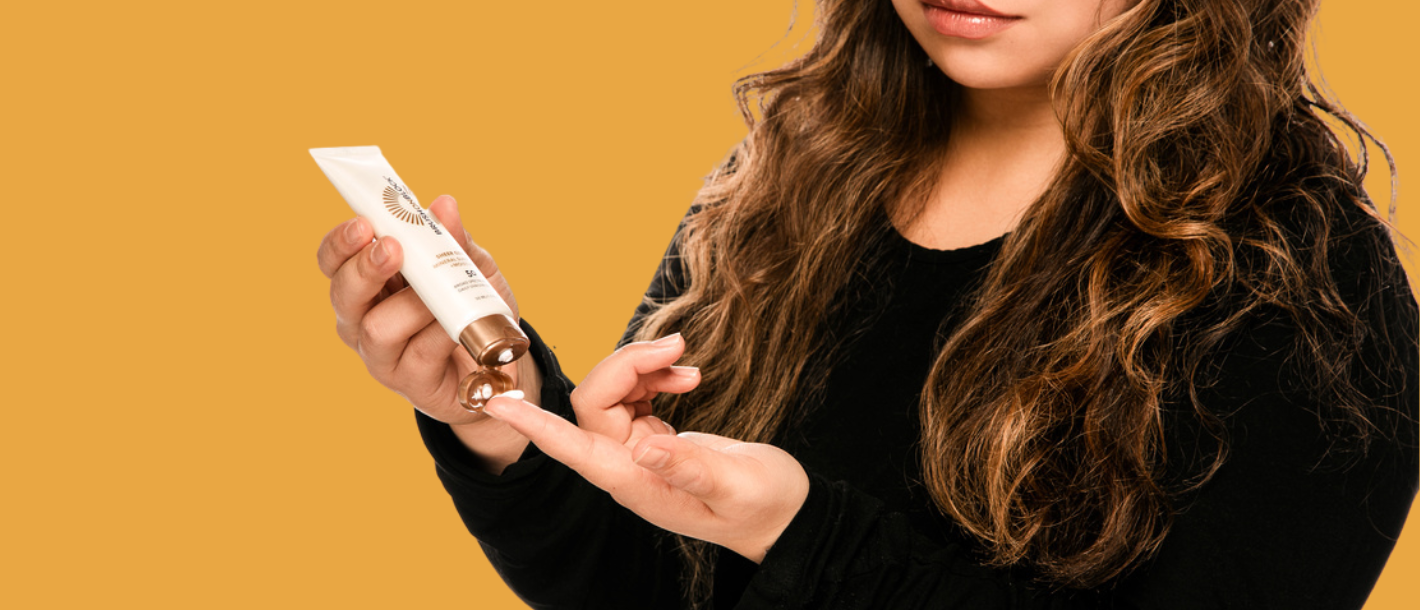 Introducing Sheer Genius Mineral Sunscreen + Moisture SPF 50
By now, you know you need to wear sunscreen every day. But you might not, because you don't like the way it feels. Or perhaps you think you don't need a specific sunscreen, because the SPF in your skin care or foundation products will give you enough protection.
This dilemma is one of the reasons that Brush On Block Mineral Sunscreen Powders exist! But we recognize that a sunscreen powder isn't the ideal solution for every person…some people just don't like powder.
That's why we decided to expand our every day sunscreen line to include our new Sheer Genius Mineral Sunscreen + Moisture SPF 50. This new sunscreen lotion is made to go under your makeup, and unless your skin is quite dry, can replace your regular daily moisturizer. But rather than the usual SPF 15-20 offered by typical SPF moisturizers, this one protects from 98% of UVB rays.
Our first SPF 50 product
Customers have been asking for a higher SPF for a while. We know that dermatologists recommend an SPF 30 for daily wear, and that's why we created Brush On Block Mineral Powder Sunscreen. But we are happy that people are getting serious about their sun protection, so adding an SPF 50 to our line is exciting for us! Just keep in mind that even SPF 50 needs to be reapplied throughout the day, but if you are inside most of the day, and only exposed to UV rays a few times, it is easy to top off with our regular Brush On Block Mineral Powder Sunscreen. If you are outdoors all day long, working or playing in the sun, you probably are not wearing a lot of makeup, so reapplication of Sheer Genius is fast and easy.
We really mean it—Sheer. Genius.
We didn't pick the name Sheer Genius lightly. We are extremely excited about this product because it really goes on sheer on all skins, from lightest to darkest. That's nearly unheard of for a mineral sunscreen, and we think that's genius! And we hope that it will contribute to removing the fear of mineral sunscreens from people with deeper skin tones. You CAN wear a mineral sunscreen lotion with any skin tone, as long as you choose Sheer Genius!
What makes Sheer Genius a great sunscreen?
To start with, it is a mineral sunscreen, using only Zinc Oxide as the active ingredient. Zinc Oxide is one of only two sunscreen actives generally recognized as safe and effective (GRASE) by the FDA. It is also Reef-friendly, as it contains none of the chemical sunscreen actives that are thought to lead to coral reef bleaching.
Add in the sheerness on all skin tones, and the SPF 50 that protects from 98% of UVB rays, and you have a great sunscreen!
What makes Sheer Genius a great moisturizer?
With great moisturizing ingredients like aloe leaf juice, jojoba esters, apple fruit extract and glycerin, Sheer Genius is an ideal daily facial moisturizer that also reduces the appearance of fine lines and wrinkles. Allantoin and bisabolol soothe dry, irritated skin. Antioxidant Tocopherol helps protect your skin from free-radicals in the environment, meaning less visible damage in your future.
Who needs SPF 50?
Who doesn't? While SPF 30 is what dermatologists recommend for every day wear, if you know you will be exposed to UV light for several hours, you should wear SPF 50. That means more than 2 hours spent outdoors, or even an hour, when the UV index  is high. If your skin is quite fair, SPF 50 can not only protect you from sunburn, but also other signs of sun damage like freckling and wrinkles. If you are on snow or water, both of which reflect 80-90% of UV rays, nearly doubling your exposure, SPF 50 is certainly helpful. And if you are at high altitudes, SPF 50 is a must. UV exposure increases 6 to 10% for every 1,000 feet of elevation, so if you are hiking up a 3,000 foot slope, your exposure is 18 to 30% higher at the top than it was when you began.
No sharks were harmed in the making of Sheer Genius
Something else we are proud of with our new Sheer Genius is that the tube it comes in is made from sugarcane bioplastic. Bioplastics have a lower carbon footprint than traditional plastics, use far fewer fossil fuels and do not contain bisphenol A (BPA), a common hormone disruptor. And our tube is easily recyclable with your #4 plastics.
There's another sugarcane connection in Sheer Genius. Squalene is a common ingredient in skin care, and in high demand because of its excellent moisturizing capabilities. Our own skin contains Squalene, but as we age, production drops off. You can replenish your skin's squalene with products, but pay attention to the source. The source of squalene that was used most for years was shark liver oil. Sharks are still being killed by the millions for their livers, but luckily there are less-cruel sources of squalene. The ingredient can also be sourced from plants, like olives, rice, wheat, date palm and sugarcane. And that's what Sheer Genius's squalene is sourced from…sugarcane, just like the bioplastic in the tube. Isn't science amazing?
Do you really want me to give up my Brush On Block Mineral Powder Sunscreen?
Of course we want you to continue using your Brush On Block powder if you already love it! If you want to try out Sheer Genius, you can use it on it's own, or you can use it along with your Brush On Block powder. Start out your day with Sheer Genius as your moisturizer, then apply any makeup you like to wear as usual. If you aren't a fan of a dewier finish, just dust a little Brush On Block powder sunscreen over the top. If you don't normally finish with powder, that's fine, you're protected! Then later in the day (about 2 hours later if you are outdoors, or maybe at lunchtime if you've just been indoors), refresh your coverage with your regular Brush On Block powder sunscreen. Remember to buff it on each half of your face for about 15 seconds to get adequate protection. Then reapply next time you'll be exposed to UV rays, and you've done it…protection all day long!