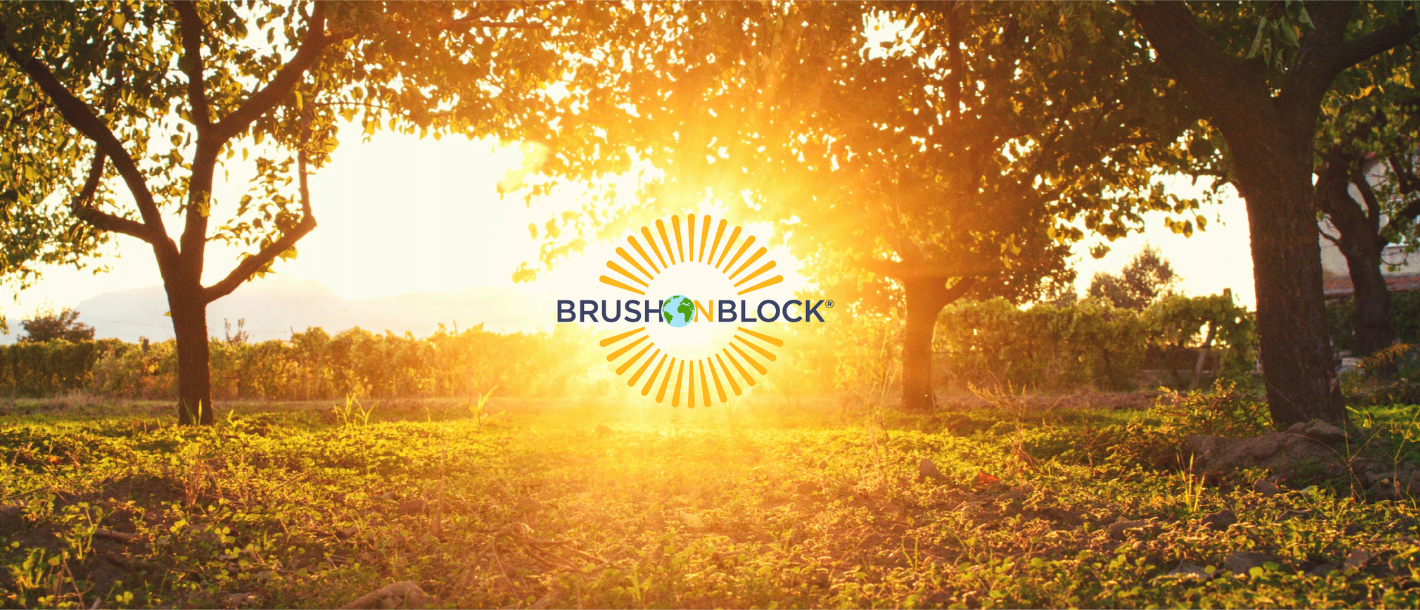 Every day should be Earth Day
America celebrates Earth Day just once a year on April 22 but at Brush On Block, we are doing our best to celebrate and help protect the earth every day. Here's how we have dedicated ourselves to making every day Earth Day.
Human health is our starting point 
As global temperatures rise, protecting your skin from damaging UV rays becomes more important than ever. Dermatologists agree that everyone should wear at least an SPF 30 sunscreen with broad spectrum protection every day. If you use mineral sunscreen (active ingredients zinc oxide and/or titanium dioxide) you are getting the best protection with the very lowest risk of any harmful side effects. Some chemical sunscreen actives are under scrutiny for being able to travel into the bloodstream, but those are ingredients like oxybenzone, avobenzone and octinoxate. Mineral actives titanium dioxide and zinc oxide are the only sunscreen actives that the FDA has proposed to be GRASE (generally recognized as safe and effective). Brush On Block also contains no nano-particles, meaning that inhalation is not a concern, as no particles are small enough to reach the lungs.
We have a vested interest in creating safe, healthy sunscreen—because we wear it and our families wear it. (Brush On Block founder Andrea Wetsel originally created the product when one of her young daughters exhibited an allergy to chemical sunscreen actives.) That is why you can trust that Brush On Block sunscreen is as clean, green and good for the planet as we can make it, and that we will continue to improve for future generations.
Non-human lives matter, too
Brush On Block is Peta-Approved (People for the Ethical Treatment of Animals) as both animal-test-free and vegan, through the Global Beauty Without Bunnies program. You can be certain that none of mother nature's other creatures were harmed to create your BOB sunscreen. We also use only the sunscreen actives that are approved by the Haereticus Environmental Laboratory for not causing harm to coral reefs. You won't find things like oxybenzone or avobenzone or nano-particles in our sunscreen.
Our goal – low waste sunscreen
Since shortly after our launch ten years ago, Brush On Block has been refillable. The thought of our lovely, soft brushes going into the trash every 3 months or so, made Andrea uncomfortable. She knew she could easily create refills for our brushes that would simply screw on in place of the existing powder cartridge, taking your brush from a single-use, throw-away item, to a long-term tool that you keep, care for and reuse for years. (A shout-out here to our customer Elizabeth Mendoza, who has been using the same brush for 3 years and refilling it every three months. Have you done better? Let us know!) If the average user replaces their brush every two years, that's potentially three brushes per user, per year, that we've prevented from going into landfills. That was a good start.
Last year, we got even more aggressive with "reduce" and "reuse," offering new eco-friendly refill pouches alongside our traditional refills. These little sachets of powder pour into your existing brush cartridge and save an average of 4 refill cartridges per user, per year from the landfill. And we continue to look for options that will help us do even better.
 Recent packaging improvements
When we introduced our Nobody's Perfect Daily Face Oil, it was important to us to that we package it in glass instead of plastic. Glass costs us a little more to ship, but it is easily recycled, and that is a plus in our book.
Then, when we were looking for packaging for our BOB KIDS Mineral Sun Balm SPF 40, again there were a lot of plastic options. But we decided an easy-to-recycle tin was a better choice. And then when we made them and saw how cute they are, we also realized that many people might want to reuse them before they recycyle them. We encourage both!
And our most exciting new packaging development is our Sheer Genius Mineral Sunscreen + Moisture SPF 50. Tins and glass have been around for ages, but a bioplastic made from sugarcane rather than petroleum products is something that is a new advancement. The bioplastic tube (made from sugar cane) that houses Sheer Genius can be recycled with your #4 plastics (or co-mingled recycling), just like a regular plastic, but the creation of the material is much more earth friendly. We think it is a win-win!
Making Eco-Friendly look good
Brush On Block retailers are in on the act now, too! Our retail displays for the spas, salons and retail stores that carry our products are made of corrugated cardboard, rather than traditional acrylic and plastics found in most cosmetic and personal care displays.
Some of you have asked us why we box nearly most of our products—it isn't necessarily our choice. In the US, Sunscreen is regulated as an over-the-counter drug, which comes with strict FDA guidelines on packaging. Because of the small size of most of our products, they need to be in retail cartons to allow us to fit the required information on the packaging. But every box we use is recyclable. We don't use foils or coatings that would cause the box to ruin a batch of recycling.
That is how Brush On Block works to make every day a celebration of our planet. But we are always open to new ideas! Email us with suggestions about how you would like to see Brush On Block become more earth-friendly.