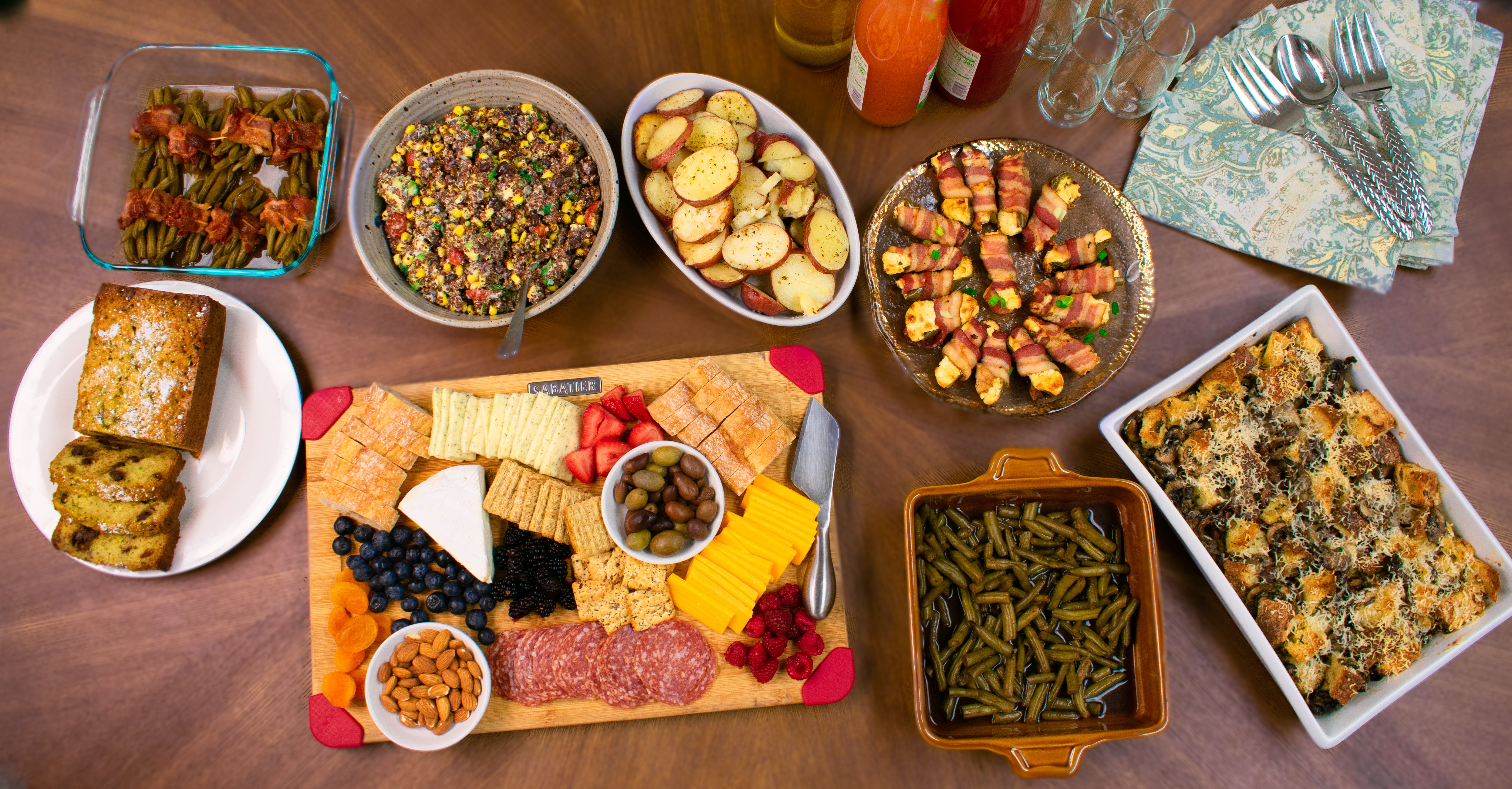 Brush On Block's Recommended Thanksgiving Recipes!
You're invited to Thanksgiving with family or friends and asked to bring something and suddenly the pressure feels overwhelming. Do not fear! The staff at BRUSH ON BLOCK® compiled, cooked, and tasted a bunch of appetizers and sides and can guarantee these are worth contributing. All you have to do is take your pick!
Wild Mushroom Bread Pudding
Yields six to eight servings
You will need:
1 1/3 cup heavy cream
4 eggs
½ teaspoon salt
½ teaspoon freshly ground black pepper
1 loaf crusty Italian bread, cubed
3 tablespoons unsalted butter, plus more for buttering the baking dish
2 shallots, sliced
4 pounds mixed wild mushrooms, cleaned and sliced
3 tablespoons chopped chives
3 tablespoons fresh thyme leaves
3 tablespoons fresh rosemary leaves
4 tablespoons grated Parmesan, plus more to top
Directions:
Preheat oven to 350˚ F
Toast cubed bread on a sheet pan in the oven until golden brown, about five minutes.
In a large sauté pan, melt the butter and sauté the shallots until just wilted. Add the mushrooms and sauté until browned, about six minutes. Remove from heat and set aside.
Make the custard: In a large bowl, whisk together the cream and eggs and season with salt and pepper.
Add toasted bread cubes, chives, thyme, and rosemary to egg mixture. Then stir in the sautéed mushrooms, and then the grated Parmesan.
Transfer mixture to a 9 by 13-inch baking dish, top with more grated Parmesan.
Bake for 45 minutes or until the top is golden brown and the custard is set.
Devour!
From www.foodnetwork.com
Quinoa Salad
You will need: 
1 cup Red Quinoa 
2 cups Vegetable Broth
1-15 oz can Black Beans, rinsed and drained
2 cups Roasted Corn Kernels
1 Avocado, cut into 1/2" pieces
1 pint Grape Tomatoes, cut in half
½ cup Red Onion, finely chopped
¾ cup Cilantro Lime Dressing*
½ bunch Cilantro, chopped
¼ cup Olive Oil
Zest of one Lime
Sea Salt and Black Pepper, to taste
Cook Quinoa according to package instructions in Vegetable Broth. When cooked, toss with Olive Oil and set aside to cool.
Combine all other ingredients, and refrigerate until ready to serve. 
Serves 6 as a side dish.
*Cilantro Lime Dressing
You will need:
2 cups

 

cilantro

 

leaves, stems removed.
1 cup plain Greek

 

yogurt
4 cloves garlic minced
1/4 cup

 

lime

 

juice (from 2 limes)
1/2 cup olive oil
Salt and freshly ground black pepper
Combine all ingredients in blender or food processor and process until smooth.
Mediterranean Lemon Potatoes
You will need:
4 large fresh potatoes                                                              
4 lemons
3 cloves of garlic chopped
Olive Oil
Garlic Salt
Chopped parsley
Dried oregano
Other herbs of choice
Baking sheet
Directions:
Preheat oven to 425˚ Fahrenheit
Line a large pan with baking paper
Rinse potatoes, leaving the skin on
Slice potatoes width-wise and place in large bowl
Juice 3 lemons, about ½ cup of lemon juice. If there isn't enough, juice the 4th lemon, but be sure to save some to squeeze on the potatoes before eating!
Add HALF the lemon juice, the olive oil, garlic, oregano, and garlic salt to the potatoes and toss
Spread the potatoes on baking sheet
Bake for 20 minutes
After 20 minutes, take the potatoes out and flip each potato slice
Cover the flipped sides of the slices with a bit more olive oil, oregano, garlic salt, and pour the rest of the lemon juice on top
Bake for another 15-20 minutes
Add more lemon juice if desired when taking out of the oven, add sliced fresh oregano
Enjoy!
Green Bean Bundles
You will need:
1 can whole green beans (or fresh green beans that have been boiled)
1 C bean juice
¼ C brown sugar
½ t allspice
6 slices bacon
Directions:
Preheat your oven to 400˚ Fahrenheit
Cook bacon on the stovetop until slightly crispy. 
Cut each slice in half and wrap around 6-8 beans. Secure with a toothpick and place in baking pan.
Combine bean juice, brown sugar, and allspice and pour over bean bundles.
Roast for 25-30 minutes until bacon is crisp.
An Epic Charcuterie Board

A staple at my family's Thanksgiving dinners is a pre-dinner charcuterie board. We love the appetizers almost as much as the main event! Here are some ideas for what you can throw on your own charcuterie board, but the best part about it is you can get as creative as you want! Feel free to put your own twist on it. 
Meats - I recommend salami and prosciutto as your staples. In my own, I used Columbus brand peppered salami  
Cheeses - Arguably the best part. I recommend varied textures and flavors. Pictured in this board is a Tillamook sharp cheddar, a Havarti dill, and a brie. 
Crackers/bread - I used a loaf of French bread, olive oil and cracked pepper Triscuits and Trader Joe's Everything crackers 
Olives - Trader Joes has a great Greek olive medley
Nuts - Almonds and pistachios are always a hit. I used Blue Diamond whole natural in this board. 
Fruits - You cannot go wrong with any type of fruit on a charcuterie board. I like raspberries, blueberries, and strawberries as pictured. Dried apricots add a nice texture and color as well.  
Bacon-Wrapped Jalapeño Poppers
These bacon-wrapped jalapeno poppers are creamy, spicy and loaded with cheese. The perfect party appetizer!
Author Sara Welch
You will need:
12 

jalapeño peppers

 

approximately 3-4 inches long

One 

8 ounce block

 

cream cheese, 

softened

1

cup

 

cheddar cheese

1/2 teaspoon onion

 powder

1/2 

teaspoon 

salt

1/2 

teaspoon 

pepper

12 

slices of

 

bacon,

 

do not use thick-cut

cooking spray
Directions:
Preheat the oven to 400 degrees. Line a sheet pan with foil and coat it with cooking spray.
Cut the jalapeños in half lengthwise and use a spoon to scoop out the seeds and ribs. 
In a medium bowl mix together the cream cheese, cheddar cheese, onion powder, salt, and pepper. 
Fill each jalapeño half with the cheese mixture.
Cut the slices of bacon in half crosswise and wrap each pepper half in a slice of bacon, using a toothpick to secure the bacon.
Arrange the peppers on the baking sheet and bake for 20-25 minutes until bacon is crispy and browned. Serve immediately. 
Bowl and Fork Zucchini Bread
A Few Notes:
This zucchini bread is best made in a frantic spurt of late night baking energy. It will not be dry. It will taste amazing. It's a one-bowl, one-loaf, no-whisk project, which means less dishes and less steps! It's so simple any oversights or missteps will still land you with a royally perfect loaf of bread. 
Ingredients
2 cups packed zucchini
3 large eggs
2/3 cup of unsalted melted butter
1/2 cup packed brown sugar
1/2 cup granulated sugar
2 tsp vanilla extract 
2 tbsp greek yogurt
1 tsp table salt
1 1/4 tsp ground cinnamon
1/8 tsp ground/fresh grated nutmeg
3/4 tsp baking soda
1/2 tsp baking powder
2 cups all-purpose flour
2 tbsp raw sugar
1 1/2 cups semi-sweet chocolate chips
Nonstick spray
6 cup or 9x5-inch loaf pan
Fork
Instructions
Heat oven to 350°F and coat loaf pan with nonstick spray. 
Grate 2c packed zucchini and don't wring it out! Keep the natural zucchini moisture intact and combine in a bowl with 2/3c melted butter, 3 eggs, 1/2c packed brown sugar, 1/2 cup granulated sugar, 2tsp vanilla extract, 2tbsp yogurt and 1tsp salt. Use a fork to mix until combined. 
Add in 1 1/4 tsp cinnamon, 1/8 tsp nutmeg, 3/4tsp baking soda and 1/2tsp baking powder. Stir until ingredients are incorporated and give it a few more whisks before adding 2c flour and 1 1/2c chocolate chips. Smooth the batter after pouring it in the pan. There should be half an inch between the batter and the top of the pan.  Before putting the mix in the oven, sprinkle 2+tbsp of raw sugar over the top. Feel free to go overboard here!
Bake for 55-60 minutes. Use a toothpick to check that the bread is done in the middle; if it comes out clean and batterless, let the loaf cool in the pan (unwrapped) overnight or for 24hrs. This bread will keep for 4-5 days at room temperature and is perfect for morning and midnight snacking! Enjoy!