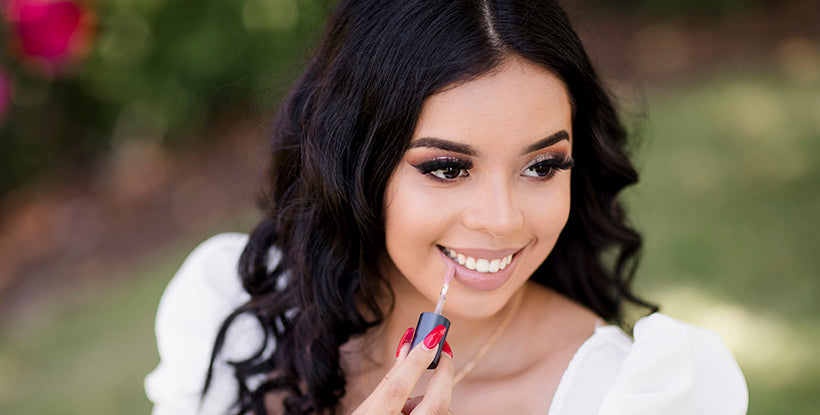 Lip Care The Ultimate Guide To Beautiful Healthy Lips
With Valentine's Day around the corner, and winter in full swing, you may be thinking about the condition of your lips a little more than you normally do. It isn't unusual for lips to be dry this time of year, but we have some tips to help keep your lips healthy, comfortable and kissable--lip wellness is really a thing!
Common Lip Care Problems
Dry lips, chapped lips and sunburned lips are the most common lip care problems, and interestingly, one can cause the other two. Protect your lips from the sun and you will go a long way to prevent dry and chapped lips, but here are some other tips to keep lips in good shape.
Dry Lips
Dry lips are very uncomfortable, and without attention, they can become cracked and even bleed. Generally, lips will become dry due to the weather and environment. If you live in an arid environment you most likely have experienced dry lips a time or two. Luckily, as quickly as lips dry out, they also heal, so a little attention will go a long way.
Chapped Lips
Chapped Lips are uncomfortable and unsightly, chapped lips often have ragged pieces of dry skin that need to be removed before the hydrating and healing can begin.
Sunburned Lips
You may not even be aware that your lips are sunburned, because the two most common signs are dry and chapped lips. But was your dryness or chapping caused by sun exposure? If it is summer, that's likely. Sunburned lips may also sting and can be painful, depending on severity.
Commonly Used Lip Care Products
Depending on your lip condition, you'll want to consider one or more of these to help heal your lips.
Lip Balm 
A Lip Balm is simply a waxy substance that usually comes in a roll-up tube or small pot, and often contains beeswax, carnauba wax, and may contain lanolin, paraffin or petrolatum. Sometimes referred to by the generic term "chapstick" (Chapstick is a brand name that refers to products made by the Chapstick company, of which there are a huge variety.), there are regular lip balms, moisturizing lip balms, and tinted lip balms. 
Some brands, like Hurraw! Balm and Portland Bee Balm make lip balms that have a more "clean" ingredient profile. Portland Bee Balm is a cleaner, greener version of the popular brand Burt's Bees, and one of our local favorites because of the way they support local beekeepers by using beeswax from Portland bees. Hurraw! Balm is a vegan balm that uses safflower, coconut and castor seed oil, candelilla wax, and cocoa butter (to name a few) instead of beeswax.
Lip Scrub 
To rid yourself of dry, flaky chapped lips, consider a gentle scrub. Exfoliation with a scrub will allow any product you put on your lips to work more effectively as well as look better. Many brands make lip scrubs, but they are easy to make on your own as well. 
To create your own lip scrub, combine a little sugar with coconut oil, or with aloe vera gel and gently massaging on lips. If you choose to use aloe, make sure that the gel you use contains no alcohol, or you may do more harm than good. 
Tools, like our Pout Prep Tool, can also be used to exfoliate the lips. The gentle silicone scrubbing brush removes dead skin easily and effectively, but works especially well if you use it with a tiny amount of coconut oil to get some moisture at the same time.
Lip Mask 
Putting a heavy balm on your lips at night to keep lips hydrated is something people have been doing for years, but now some brands have formulated masks specifically to be worn overnight. These generally include oils and butters to keep the skin soft, and may include occlusive ingredients like petrolatum to keep moisture from evaporating from lips as you sleep. 
Newer on the lip care scene is a lip-shaped mask that is made of hydrogel and soaked in serum. 
These are applied to the lips (maybe at the same time you are doing a face mask or other beauty routine) and allowed to stay on the lips to absorb for 15-20 minutes and then removed. 
Masks often include ingredients like hyaluronic acid or collagen, which may help plump the lips as well as moisturize them.
Lip Sunscreen
Everyone knows they should be wearing sunscreen every day to protect skin from the damage caused by UV rays, but did you know that you should also wear SPF on your lips?
In fact, because the skin on the lips is so much more thin than that on the rest of the face, damage can happen even more quickly, so lip sunscreen is very important. Far from the white zinc oxide cream that lifeguards have favored over the years, lip SPF has evolved into something that is more glam!
You can find SPF lip balms, SPF tinted lip balms, SPF lipsticks, SPF lip glosses and Brush On Block has introduced the first SPF Lip Oil, Protective Lip Oil SPF 32! 
Lip Oil
A newer category of lip products, lip oils contain a variety of oils that soothe lips and help keep them moisturized and glossy, like a lip gloss with benefits. The downside to many lip glosses and lip oils is that they can make your lips more prone to sunburn (like tanning oils did in the days when everyone wanted to be deeply bronzed).
Brush On Block has solved this problem by introducing the first Lip Oil that contains mineral SPF 32, so it protects your lips as it moisturizes them.
Things to consider when choosing a lip sunscreen:
Level of protection

- because of the whiteness of mineral

sunscreen

actives, many clean-green products top out at

SPF 15

or 20, or they run the risk of looking like Zinc Oxide cream. Dermatologists recommend at least an

SPF

30 for daily use, so you may not be getting quite enough protection from the typical

SPF

lip balm

.

Ingredients

- if the product is pigmented, like a lipstick or tinted balm, look at the active ingredients. Many people are trying to avoid chemical

sunscreen

actives since they are potentially harmful to reefs and ocean life, but also the FDA has required more testing  before they can be considered "Safe and Effective." Since a small amount of lip products can be ingested through wearing, it is worth looking for a product with mineral actives (zinc oxide and titanium dioxide). These are more difficult to suspend in a colored base, so many colored products use chemical actives. (Brush On Block never does!)

How easy is it to reapply?

- Did you know you need to reapply your

sunscreen

every two hours, especially when you are in the sun? The same applies to lip

sunscreen

. Because talking, drinking, or even kissing can remove product from the lips, reapplication is even more important. Consider something that you can reapply easily, and maybe even without a mirror and definitely without a Lip Brush.
Lip Care Routine
The best way to keep your lips in great shape year-round is to establish a lip care routine. This can be a few simple steps that you add to your daily and nightly skincare routines, and you can add the more complex steps once or twice a week.
#LipCareTips
1. Exfoliate
In the morning when you brush your teeth is a great time to exfoliate your lips. Invest in a scrub, tool or just bring small containers of coconut oil and sugar into your bathroom. Scrub the lips for 20-30 seconds and you're done! Added bonus, if you use a tool like our Pout Prep Tool, you can turn the tool over to the side with the larger bumps after you have exfoliated and massage for a few more seconds to receive a little extra plumping!
2. Moisturize 
Apply a rich balm or more coconut oil after exfoliating, to give your lips some extra moisture. Finish your routine, and apply your makeup if you wear it, then remove any traces of the balm or oil.
3. Apply SPF 
Whether you wear lip color or not, now is the time to apply your lip sunscreen. Aim for SPF 30, and if you like color, consider Brush On Block Protective Lip Oil SPF 32 in Fig or Coral, giving you protection, shine and color in one swipe of the wand! If you are color-shy, the barely-there color of our Protective Lip Oil SPF 32 in Nude Tint is a great choice, and also works well on men.
4. Reapply Often
Don't forget to reapply when your lips feel a little dry or after 2 hours if you are in the sun.
5. Hydrate 
Hydration of your lips starts within, be sure you are drinking plenty of water, especially when the weather is dry. If you live in a dry climate, using a humidifier will also help your lips, as well as your entire body.
Occasionally
Apply a Lip Mask - do this step at night before bed (if it is a heavy balm-type mask-like Laneige Sleeping Mask) or any time you want your lips to look extra good and plump, maybe for a Zoom Happy Hour (if it is a hydrogel mask like Patchology Flashpatch Hydrating Lip Gels).
How About Lip Care for Men?
Guess what? Lips are lips. The men in your life will benefit from following the same routine as you do, it is simply a matter of showing them the steps and providing the tools to get it done. 
After all, no one wants to look at dry, dead skin flakes on lips, let alone kiss them!
Lip Care FAQs
How to Take Care of Your Lips? 

Follow a simple

Lip Care

Routine like the one outlined above. Avoid licking your lips when they are dry, as this can lead to more dry,

chapped lips

.

Is it bad to use lip balm every day?  

Lip Balm

Addiction is not a real thing. It isn't bad to use a product on your lips every day, but do be careful of the ingredients you are using. Things with menthol, cinnamon, and

peppermint

can be drying and irritating. They feel good when you first apply them but, ultimately may hurt more than they help.

How can I take care of my lips naturally? 

Use more natural ingredients, like

lip treatment

products made with plant butters and oils, iron oxide colorants, and mineral

sunscreen

actives (zinc oxide and titanium dioxide). For scrubs, be sure that the scrub contains something gentle and natural to exfoliate, like sugar. Avoid microplastic beads or pieces of nutshells in your scrubs; chemical

sunscreen

ingredients like avobenzone and oxybenzone in your

SPF

; and ingredients like petrolatum in your

lip treatment

.

What heals lips fast? 

Apply a moisturizing treatment several times per day (your favorite

lip balm

, oil, or mask), and be sure to use a

lip treatment

with

SPF

30 or higher if you go outdoors.

How does lip balm protect the lips? 

To protect your lips from environmental damage, you need two things, something to keep moisture in, like oils and butters, and

SPF

.

How long does it take for sunburned lips to heal? 

Like all sunburns, lip sunburn is the most painful for the first 48 hours, and will gradually heal over 3-7 days. If your burn is severe, you may be left with permanent light or dark spots and should consult a doctor or dermatologist.
The Conclusion
Caring for your lips is easy once you know the basics. Keep them moisturized, exfoliated, and protected from the sun and you're more than halfway to beautiful lips. Add a few steps like occasional masking, and keeping your skin hydrated from the inside, and you've got the recipe for healthy, beautiful lips.
Show off your beautiful lips while you keep them that way with Brush On Block Protective Lip Oil SPF 32. This nourishing lip oil contains antioxidants, vitamin E, and natural plant oils to make an excellent lip moisturizer that also protects from the sun with natural, mineral sunscreen, and gives a splash of color if you wish. It can be worn over other lip colors or on its own. Like all Brush On Block products, our Protective Lip Oil SPF 32 is free from parabens, PABA, and chemical sunscreen ingredients that may harm reef life. If you are looking for a lovely gift, our Protective Lip Oil Set includes all three shades--Nude Tint, Coral, and Fig.