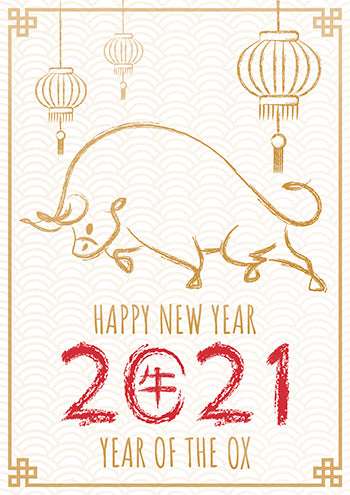 Celebrate Lunar New Year - Welcome the Ox!
Are you happy to see 2020 in your rear-view mirror? If your socially-distant New Year's celebration seemed to somehow fall short of what you feel the changing of the calendar deserved, there's a way you can celebrate the New Year again. Welcome in the Year of the Ox by celebrating Lunar New Year. Often referred to as Chinese New Year in the US, Lunar New Year is actually celebrated by more than 25% of the world's population, but Chinese traditions are key to the celebration. Because of the timing, the 16-day celebration is also called Spring Festival. 
Every Lunar New Year begins the year of a different animal of the Chinese Zodiac, which is made up of 12 animals. This year, the Year of the Ox begins on February 12. (The date that the year begins changes every year, but is almost always late January or early February, so if you were born in January or February, check the calendar to determine your zodiac animal.) This year is the Year of the Ox. People born in Ox years (1925, 1937, 1949, 1961, 1973, 1985, 1997, 2009 and now 2021) are thought to be strong and robust, diligent, dependable and determined. They are great planners and sincere and loyal friends. Their weakness may be communication skills and being stubborn. (Stubborn as an ox?) Some famous Oxen are Barack Obama, Vincent Van Gogh, Adolf Hitler, Walt Disney and Margaret Thatcher.
To celebrate the Lunar New Year, there are some traditions you can incorporate into your days. Festive treats and foods, festive (usually in the color red) décor, fireworks, traditional dance and family gatherings are part of Lunar New Year celebrations. Some of those are easy to do, some more difficult, but two other important traditions are giving "lucky" red envelopes filled with cash to family and friends, and something not quite as fun…cleaning house! While most of us would rather receive an envelope of cash, Lunar New Year can be a fun excuse to kick-off your spring cleaning. According to tradition, cleaning is called "sweeping away the dust" and moves aside the old to make room for the new. It should be noted, however, that you must not wash hair or clothing on the first day of the New Year, because this is seen as washing away your luck. You should also not take out the garbage or sweep on that day, lest you get rid of your luck.
One of the most fun ways to celebrate Lunar New Year is to create a special meal (or several, the celebration lasts 16 days). Some key foods to consider for February 12 are whole fish or whole chicken, mandarin oranges or tangerines, lettuce wraps, spring rolls, Chinese dumplings, sticky rice cakes, and long noodles. Many of these specialties can be purchased prepared from your local Asian grocery, or you can make your own. Just remember when eating Long Noodles, you don't want to cut your noodles, just twirl or slurp them, lest you cut your year short!
If you prefer to cook something from scratch, try Chinese Stir-Fry Beef with Three Vegetables from thespruceeats.com. This dish is considered lucky because the number three symbolizes prosperity in Chinese culture, and the recipe contains three different vegetables.
And of course, if you'd rather not cook, it is always fun to order take-out from your favorite Chinese restaurant. Ask them if they have any recommendations for a Lunar New Year treat!
Because the Lunar New Year lasts 16 days, you can celebrate the whole time, or pick a few days to celebrate. The whole celebration wraps up on February 26 this year, with the Lantern Festival. This is a great time for another Chinese feast, and although there may not be a lot of decorative lanterns out in your neighborhood, it is also traditional to take a stroll and look at the moon, weather permitting.
Gung Hay Fat Choy!
 Image designed by pattawin / Freepik