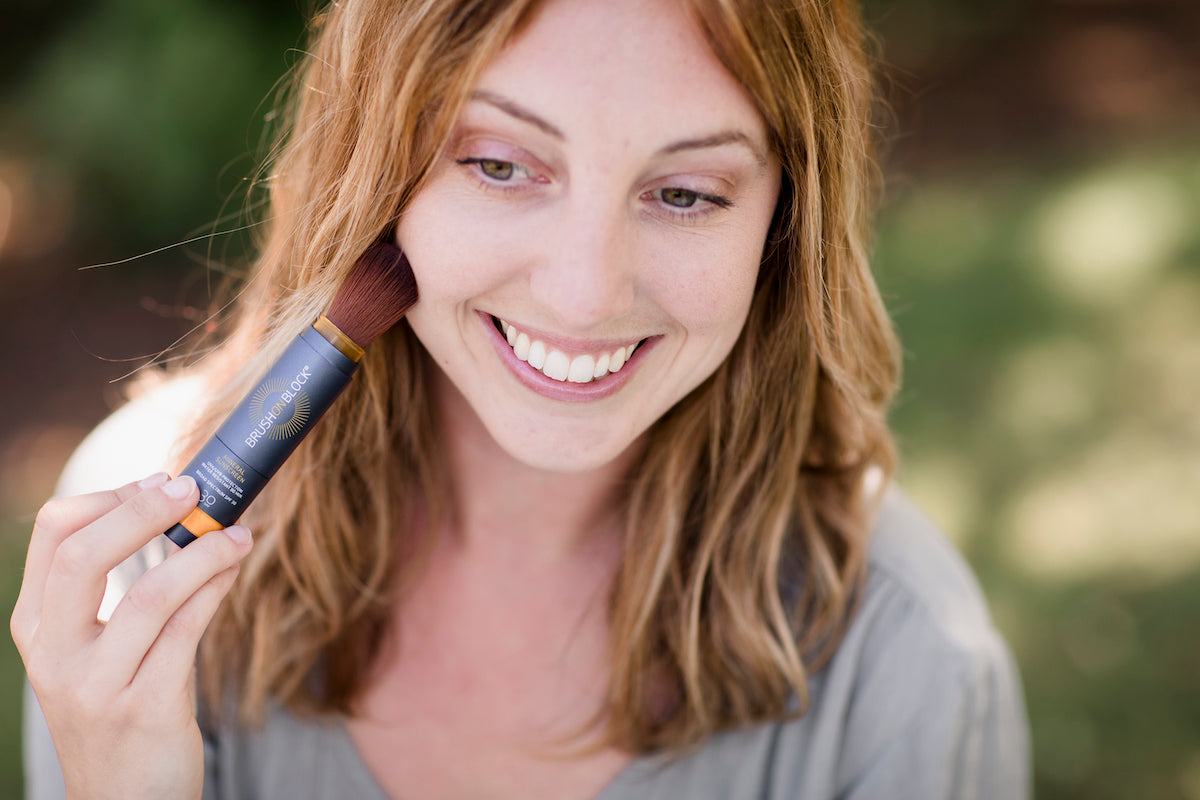 Let's Talk About Why Skin Care Professionals Choose Brush On Block
We know sunscreen is important, it's a common-sense adage we've heard many a time, but why is it so important? And why BRUSH ON BLOCK®? We spoke with some skin care professionals about why they recommend sunscreen and, more importantly, why they recommend Brush On Block.
How (or why) did you decide to carry Brush On Block?
We received a variety of responses to this question, but one of the most common was how elegant of a product it is, aesthetically and functionally. Sandra Marchese Johnson MD, FAAD, from Johnson Dermatology in Fort Smith, Arkansas told us she loves it because it is an "easy to apply powder sunscreen for all people—kids, women, men. I like that there is no color. I like that I can carry it in all of my bags and purses. I like that it is easy to reapply without having to get my hands dirty." Brush On Block's versatility and convenience was also mentioned by multiple professionals. Adriana Walsh, from Oakview Dermatology (five locations in Ohio), told us she loves "Brush On Block because it is very versatile (can use it anywhere including hairline and hair part), hypo-allogenic, and doesn't sting the eyes. I also love the ease of use and how it is great for sensitive skin!"
What is your favorite thing about Brush On Block?
Our responses once again touched upon Brush On Block's simplicity. Brenda Martinez Ledbetter CMA, LME, from Derrow Dermatology in Maitland, Florida, told us her favorites things are it's "easy to use, natural-looking and portable in your bag for use anywhere," and she is echoed in her sentiments by Karen Hunke, ARNP from Radiant Complexions Dermatology in Ankeny, Iowa, who wrote she loves the "compact size, [that] it does not feel heavy or sticky, [that] it has a refill option, [and that] fits easily in my purse."
What advice do you give to your clients/patients about using sunscreen?
Sunscreen should start off every day to ensure protection. Sandra Marchese Johnson said to "keep it by your toothbrush to apply every morning after brushing your teeth." And Samantha Surman, COS, CLT, MLSO, from Healthy Complexions Spa By Western New York Dermatology, wrote sunscreen "should be part of their daily routine to protect their skin from the sun. They will get UV light exposure every day (even on cloudy days) and, on days they are outside for extended periods, they need to re-apply every 2 hours."
What do you find is the most common misconception that people have about sun exposure/sun protection?
This is a big question, there are lots of misconceptions out there, but here are some of the most important answers. Samantha Surman tells us "patients feel that if they don't burn in the sun that they don't need sunscreen. This is false since the chronic UV light exposure is still causing DNA damage to the skin that leads to premature aging and the increased risk of skin cancers." And Brenda Martinez Ledbetter wrote that some people think "That sunscreens cause skin cancer and that wearing sunscreen prevents you from getting enough Vitamin D--both incorrect!" Karen Hunke revealed many of her patients believe "the sunscreen in their makeup or moisturizer is good ALL DAY! NOPE!" 
Aside from skin cancer, what other effects of sun exposure should people be concerned about?
Of course, skin cancer is a huge concern, but Adriana Walsh told us wrinkles, age spots, and premature aging are other effects to be avoided. Karen Hunke said that "90% of the signs of aging come from sun exposure," so if you want to continue to look young, protect your skin!
Are there any ingredients that you advise people to avoid in sunscreen?
Samantha Surman gave us an amazing, in-depth answer to this question. She wrote "there has been a lot of talk about chemical sunscreens and how the compounds do cross through the skin and into the bloodstream. While there has never been any evidence that these compounds (i.e. avobenzone, oxybenzone, octocrylene, homosalate, octisalate, and octinoxate) are actually harmful or can result in disease, patients who are concerned about exposure to them can use physical sunblocks that contain zinc oxide and titanium dioxide. These do tend to leave a white residue and are greasy, EXCEPT for Brush On Block, which contains these ingredients and is very elegant since it is a powder." Many of the other professionals we spoke with agreed with recommending sunscreens containing zinc oxide and titanium dioxide.
Anything you'd like to add?
Brenda Martinez Ledbetter summed everything up quite nicely, leaving us with the perfect sentiment to end on: "sun protection is essential to prevent skin cancer and premature aging of the skin. Nowadays there are so many options that everyone can find the right product for them. Long gone are the days of only having sticky white paint to put on your nose! Products are now available in much more elegant and user-friendly formulations so people can't use that as an excuse anymore!"