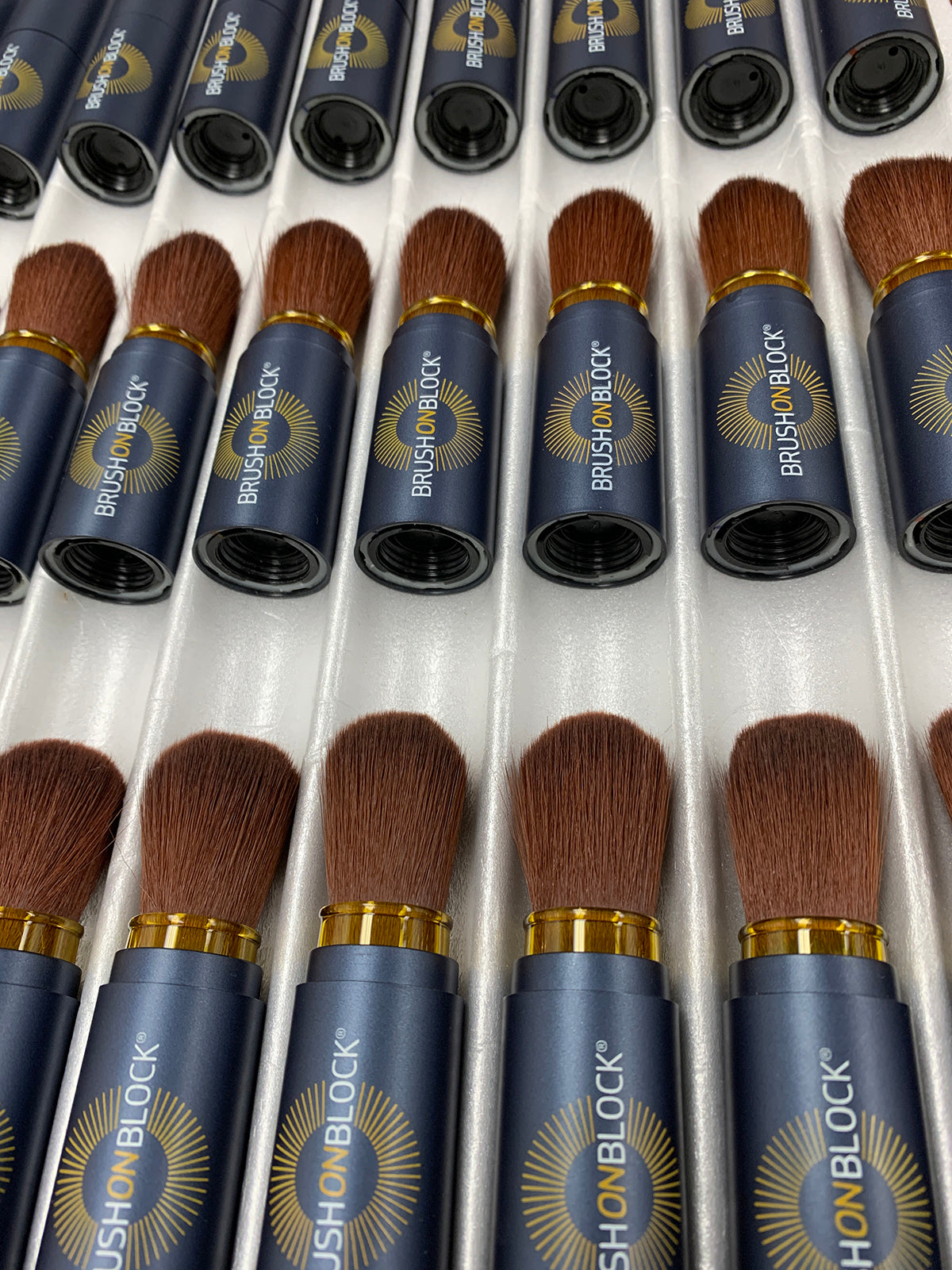 How It Is Made: The Making Of Our Brush
You probably already know that BRUSH ON BLOCK® is an easy mineral powder sunscreen that's made to use every day. Our self-dispensing, refillable brush is a huge part of what makes Brush On Block so easy (and mess-free) to use, so we thought you might like to learn a bit more about how it is made!
Developing a product that met our exacting standards was no easy task. First, we wanted to make sure that our self-dispensing brush would be the best on the market. Then we set about developing a translucent mineral powder that provided SPF protection AND worked on all skin tones. And finally, we had to make certain that our brush and powder worked properly together, as not all powders flow the same through a brush. After several years of product development, we knew we had created a winner. So let's talk more about that self-dispensing brush.
Occasionally we get customers who call or write, asking if our product is made in China, because it does say that on the bottom of our brush. But only the brushes are made in China, and we are quite proud of where they are made. The brushes are hand crafted in Shenzhen, China, by a company that has been making fine art brushes for four generations. This family-run business began with the crafting of calligraphy brushes, and over time has expanded into cosmetic brushes. We have a great relationship with our brush makers, and visit the factory at least once a year, where we are greeted with smiles by the skilled craftsmen (and women!) who are assembling brushes by hand. The individual brush hairs are gathered, glued, shaped and trimmed, then a hole is created in the middle for the powder to flow through.
The Brush On Block brush head is made from soft, synthetic bristles, as synthetic fibers work best for grabbing and holding the mineral powder. When the brush is used to apply the powder to the skin, the gentle synthetics do not cause the irritation that you may experience with animal hair bristles. The synthetic brush hairs mean our brush (as well as our finished product) is hypoallergenic, cruelty free and vegan friendly.
A unique feature of our brush is the open/close feature. By twisting the powder cartridge slightly to the left, you open the brush so that powder can flow. After tapping out the amount of powder needed and applying it, the user should turn the powder container back to the right to close the brush and prevent powder from flowing. This protects your handbag, gym bag or backpack from accidental spillage! Another unique feature of our brush is that it is refillable. When your powder is empty, you simply unscrew that powder cartridge and replace it with a new one! (Hint: that's also a good time to give your brush a good wash.)
Our next How It Is Made will look at how our mineral powder formulation is made and tested--we hope you'll check back to learn more!